Businesses in Coverdale are offering more services to customers, improving their efficiency and attracting staff thanks to ultrafast, Full fibre, broadband installed as part of a North Yorkshire County Council programme.
As part of Phase 3 of the Superfast North Yorkshire programme – which is managed by NYnet, North Yorkshire County Council's wholly owned company, and part-funded by the Government and Openreach – 35 properties in the area are benefitting from the continued roll-out. The properties, which includes homes as well as businesses, have received fibre-to-the-premises, which is capable of ultrafast speeds in excess of 300Mbps.
Rishi Sunak, MP for Richmond (Yorks), visited two businesses to benefit – The Forbidden Corner and The Saddle Rooms at Tupgill Park – to see the advantages first hand.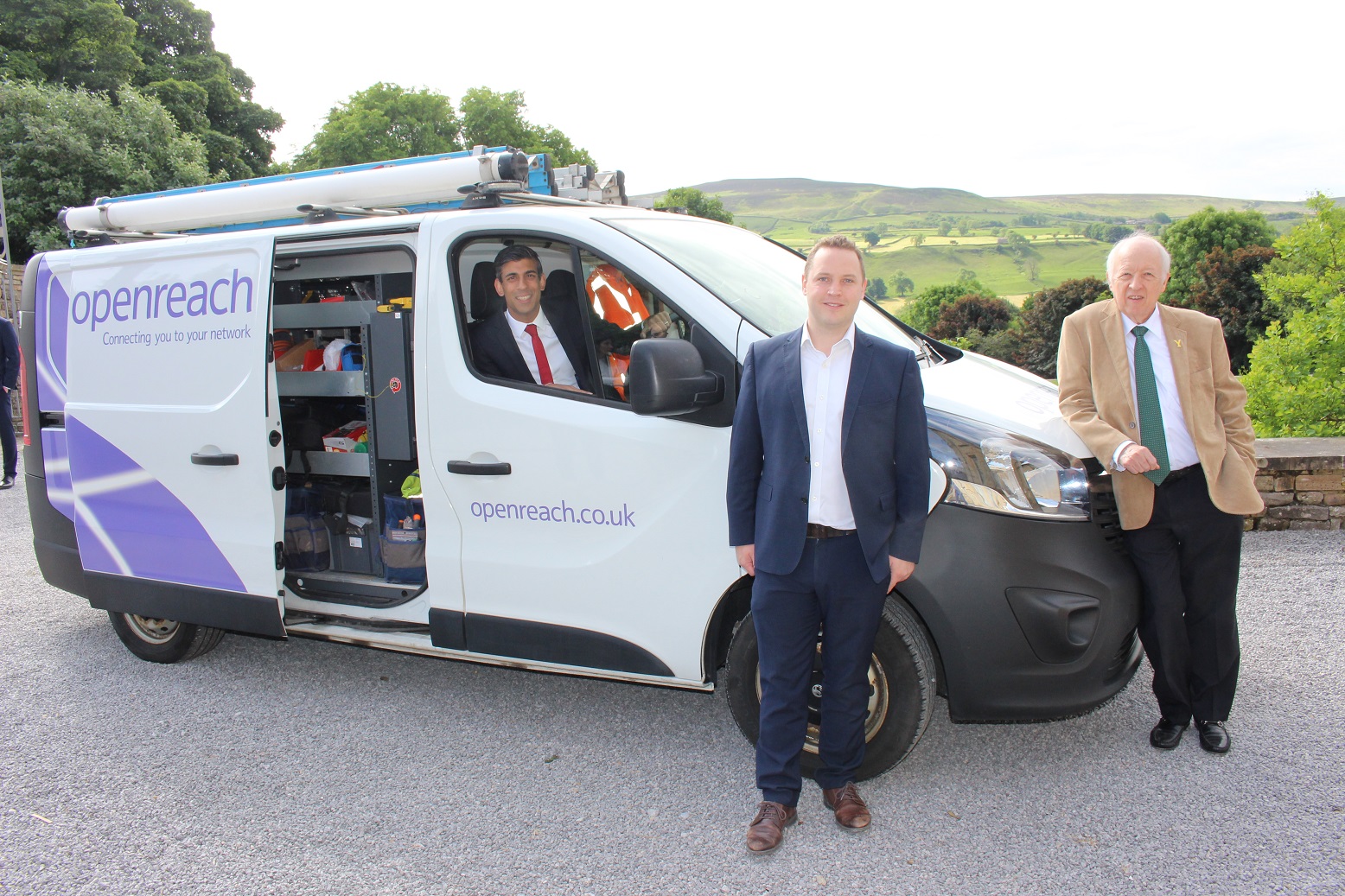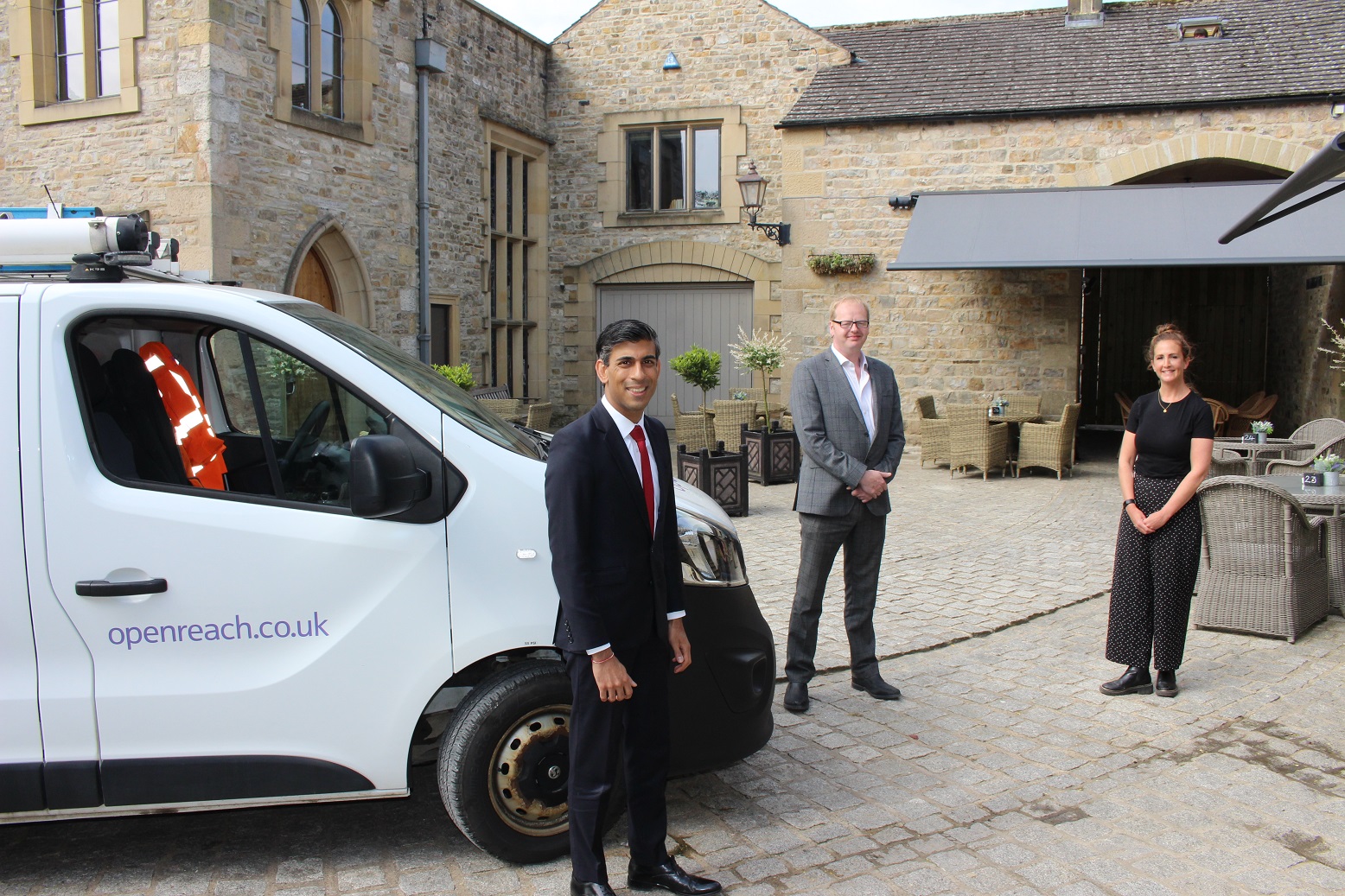 At The Saddle Rooms, a restaurant, accommodation and wedding venue, manager Leo Morris said: "Visitors expect broadband – the AA list it as second to cleanliness in requirements – and we have had guests walk out because of the lack of it. Therefore, I am really pleased that we are now able to access superfast fibre – for visitors as well as being able to use it for the day to day running of The Saddle Rooms."
Explaining further, Leo said: "This connectivity will allow us to develop our wedding and conference business whilst also attracting to the area new staff, who can live on site in our accommodation and know that they have access to a reliable wi-fi signal to communicate with friends and family."
The Forbidden Corner, a unique North Yorkshire tourist attraction, is also seeing benefits.
Manager Johnny Reeves said: "Superfast fibre has allowed us to work more efficiently and provide a better service to our loyal customers. For example, upgrading to a cloud-based stock system means we have a more resourceful stock management and ordering system.
"We are able to offer guest internet access to our visitors in our café and shop area, which they have consistently asked for. It is great that we are now able to offer it. This gives customers the chance to upload videos, photos and tag themselves at The Forbidden Corner, which also gives us the chance to enhance our online profile to new and existing customers."
Mr Sunak welcomed the continuing investment from the council through Superfast North Yorkshire, Openreach and the Government. He said: "We have seen through the pandemic how important good broadband is to both businesses and residents, particularly in rural areas like Coverdale. It is an essential service so I am delighted to see more hard-to-reach places receive the benefits of a first-rate connection."
County Council Leader Cllr Carl Les said: "I am pleased to see the continued roll-out of the superfast programme supporting our communities. We are committed to bringing access to superfast broadband to communities across North Yorkshire. Access to high-quality broadband is essential to support business, education, employment opportunities and many aspects of daily life now more than ever as we recover from the impact of the Covid-19 pandemic."
Matthew Davis, Openreach's Director of Fibre Build in the North, said: Building a new ultrafast broadband network across North Yorkshire is a massive challenge and we're extremely proud of the difference our partnership with Superfast North Yorkshire has made to increasing the county's connectivity. 
"Alongside this partnership we also continue to invest commercially in upgrading North Yorkshire and have recently announced we'll be building to an additional 40 communities, connecting tens of thousands more homes and businesses to full fibre over the coming months and years."