Residents of Picton can now access ultrafast broadband speeds thanks to a mixture of fibre and wireless connectivity as phase four of the Superfast North Yorkshire rollout begins.
Managed by NYnet, a company owned by North Yorkshire County Council, and run by Quickline Communications, the programme is now bringing fast, reliable speeds to some of the most rural areas of North Yorkshire.
On a recent visit, Rishi Sunak, MP for Richmond (Yorks), enabled the broadband, which will now offer speeds of up to 1Gbps. 
Resident Phillip Sykes, who is also clerk of the Parish Council, is looking forward to accessing the fast and reliable network. He said: "Everyone has become more reliant on broadband, especially over the past 18 months. Our current broadband speed limits us. Recently, for example, I was on a hockey training session over Zoom. Even though I had my video off, my broadband kept crashing and buffering, which meant I struggled to get involved as I missed questions or comments.
"The lack of reliability to do such simple tasks is frustrating. I am really looking forward to being able to access the ultrafast speeds the Superfast programme and Quickline will offer us."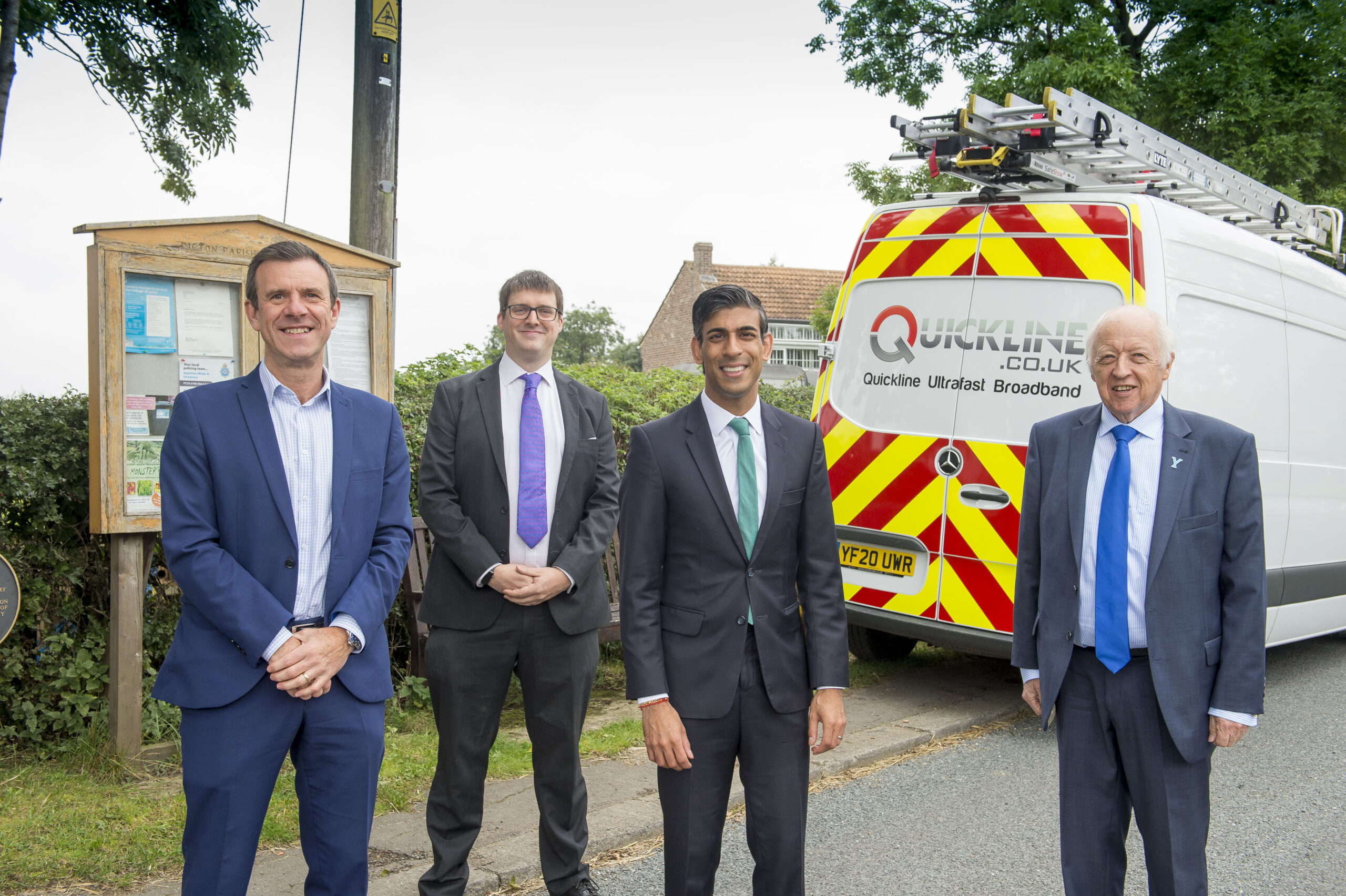 Mr Sunak welcomed the next stage of the Superfast programme's focus on rural areas.
He said: "This mix of technologies means everyone in Picton should have access to high-quality broadband regardless of where their home or business is situated. The speeds delivered by this part of North Yorkshire's broadband roll-out will mean rural communities like Picton having a service equivalent to if not better than that found in our biggest towns and cities."
Quickline's hybrid approach means those who live on the outskirts of main villages will benefit. Mervyn Ashe is one such resident. He said: "Currently our broadband is slow. We will often get the circle of doom spinning on the television when I watch it, which – as a big sports fan – is frustrating.  Superfast North Yorkshire and Quickline Communication's commitment to connecting residents outside of main villages is important for my neighbours and me to complete day-to-day tasks, such as video calls for work."
County Councillor Don Mackenzie, Executive Member of Access, said: "Access to high-quality broadband is essential for everyday life more now than ever as we recover from the impact of the Covid-19 pandemic. This programme, along with our other digital projects, supports our commitment to delivering a better-connected county, which supports all residents and businesses."
Sean Royce, CEO of Quickline Communications, said: "Gone are the days when rural areas are left behind to cope with substandard internet services. We've all seen what a lifeline reliable connectivity has been for many over the last 18 months, whether working from home, for home-schooling, to stay connected to family and friends or to help reduce feelings of isolation. At Quickline, we're working hard to ensure these previously forgotten communities like Picton have access to an ultrafast broadband network they can trust. Anything less is unacceptable in the 21st century."
Alastair Taylor, CEO of NYnet, said: "We're really pleased the phase four roll-out has begun following the success of the first three phases of Superfast North Yorkshire programme. This will be a gamechanger for rural businesses and residents and highlights our commitment to delivering ultrafast speeds to all of North Yorkshire."